M510
The machine that you know, has taken a step forward
The 510 mm / 20 in walk-behind scrubber is the top selling model on the market, combining economy, productivity and size. MACH has revolutionized this popular model, applying innovative technology that breaks cleaning boundaries. The result is the elegant M510, a professional auto-scrubber that delivers outstanding results. Available with the MACH ECOsystem®.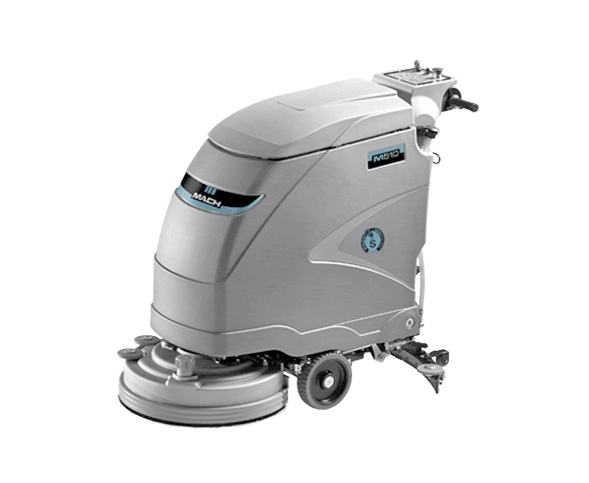 Experience powerful cleaning with the intelligent M510.
The M510 is a robust walk-behind auto-scrubber, which delivers outstanding results. Incredibly powerful, it ensures maximum water pick up and dirt removal, guaranteeing a professionally clean, dry floor that is ready for traffic. 
Elegant in design and highly maneuverable, the M510 ensures effortless operation and light touch handling. It is highly productive with a 510 mm / 20 in cleaning path and top traction of 4 km/h / 2.5 mph it achieves a cleaning capacity of up to 2,200 m² / 23,700 ft² per hour. You can also rely on MACH manufacturing; the M510 is incredibly durable constructed in steel and electro-coated for the best anticorrosion protection and resistance to impact.
The M510 is available with MACH's ECOsystem®, a patented technology that recycles water and detergent. Guaranteeing incredible solution, labor and cost savings whilst reducing the environmental impact of cleaning. 
The M510 is available in four versions:
BASE – delivers on cleaning performance at outstanding value for money
MECHANIC – electronic free for absolute simplicity
TRAC – full features for maximum control
ECO – top of the range and featuring MACH technology, fitted with the ECOSystem®
AVAILABLE VERSIONS
M510 BASE
M510 M (Mechanical - electronic free)
M510 TRAC
M510 ECO 
FIELDS OF APPLICATION
Industrial sites, communities and vicinities, schools, offices, religious buildings, hospitals, public buildings, airports, ports, shopping malls, logistical depots, cleaning companies, and multi services.
SUITABLE CLEANING SURFACES
Ceramics, marble, cement/concrete, linoleum, non-slip surfaces, porcelain tiling, and many other dirty conditions.
| TECHNICAL SPECIFICATIONS | M510 BASE | M510 M | M510 TRAC | M510 ECO |
| --- | --- | --- | --- | --- |
| Cleaning path (mm) | 510 mm / 20 in | 510 mm / 20 in | 510 mm / 20 in | 510 mm / 20 in |
| Cleaning capacity | 2.200 m² / 23,700 ft² per hour | 2.200 m² / 23,700 ft² per hour | 2.200 m² / 23,700 ft² per hour | 2.200 m² / 23,700 ft² per hour |
| Solution tank capacity | 40 L / 10.6 gal | 40 L / 10.6 gal | 40 L / 10.6 gal | 40 L / 10.6 gal |
| Recovery tank capacity | 56 L / 13.2 gal | 56 L / 13.2 gal | 56 L / 13.2 gal | 56 L / 13.2 gal |
| Drive | mechanic | electronic assisted | electronic assisted | electronic assisted |
| Forward speed | 3 km/h / 1.9 mph | 4 km/h / 2.5 mph | 4 km/h / 2.5 mph | 4 km/h / 2.5 mph |
| Power | 24 V | 24 V | 24 V | 24 V |
| Battery | 2 x 12V | 2 x 12V | 2 x 12V | 2 x 12V |
| Battery charger | on-board | on-board | on-board | on-board |
| Weight (inclusive of battery & charger) | 198 kg / 437 lbs | 198 kg / 437 lbs | 198 kg / 437 lbs | 198 kg / 437 lbs |
| Size (without squeegee) | 1.317 x 555 x 1.110 mm | 1.317 x 555 x 1.110 mm | 1.317 x 555 x 1.110 mm | 1.317 x 555 x 1.110 mm |
| Squeegee width | 830 mm / 32.7 in | 830 mm / 32.7 in | 830 mm / 32.7 in | 830 mm / 32.7 in |